About Us
Bee Merry is a local floral studio solely owned and operated by Emily Simpson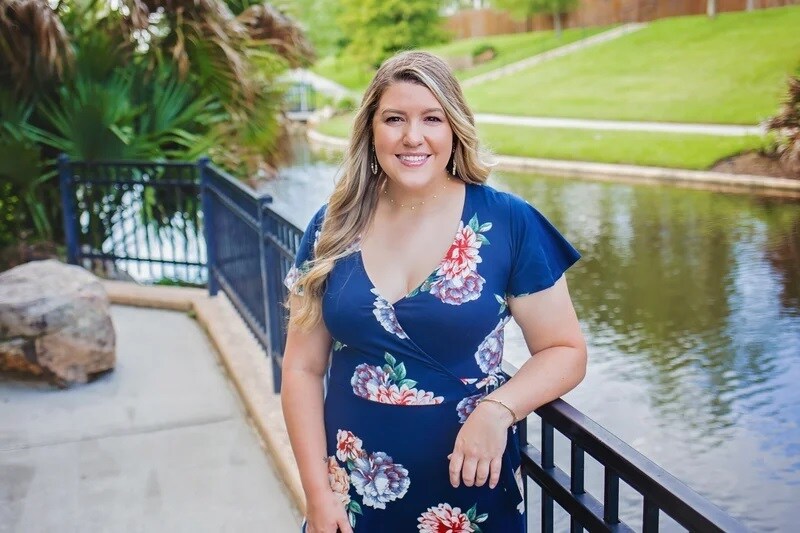 "I have always been passionate about gardening, plants, and flowers. Growing up here in Cypress, TX I learned a great deal about gardening from my grandmother and my mother. They both dabbled in growing all kinds of things, and I have fond memories of playing in my mother's garden when I was a kid.
I have always wanted to start my own flower farm, and while that dream is out of my reach at the moment I was able to start a floral business that has been growing very quickly! There is demand in Cypress and its surrounding areas for a florist that isn't just selling your run of the mill arrangements. I strive to offer unique cultivars of flowers you already know and love, elegantly designed and arranged with each individual customer in mind.
I am a 4th generation Houstonian, and was born and raised out here in the Cypress area. I am a single mom to one amazing kiddo, and I love that I get to show her how hard work and dedication, along with God's continual guidance, can build a business that develops into a legacy of love, joy, and generosity.
Thank you for checking out my website, and if you decide to purchase from Bee Merry please know that I am wildly grateful. This business has brought so much joy into my life, and I understand that without my wonderful community and customers none of this would be possible. Every order, no matter how small or large, means the world to me. Thank you from the bottom of my heart for all the support!"
"Queen Bee" Emily
Bee Merry Floristry
13360 Telge Rd Suite 602
Cypress,TX 77429
Studio Policies
Below you'll find explanations of several of our store policies. We strive to satisfy each of our customers individual needs, so if you have any questions or concerns please call and we'd be happy to chat!
Delivery Policies
We deliver just about anywhere you'd like in the greater Houston area. Our delivery fees will vary based on how far away the delivery address is from our studio here in Cypress (77429 zipcode).
Delivery within 5 miles of our studio is free.
Delivery 5.01-10 miles of our studio is $5.
Delivery 10.01-15 miles is $15.
Delivery 15.01-20 miles is $25.
Delivery 20-30 miles is $35.
We will continue to work hard to keep this cost as low as we can, however changes may be made to delivery fees to keep up with the generally rising cost of doing business. We will strive to keep our customers informed as well as we possibly can of all changes made to our policies, including delivery pricing. Please let us know if you have any questions!
Substitution Policy
While we try to keep everything pictured on our website in stock there will be times that availability is limited or nonexistent. Many flowers are seasonal, and most of our product is imported, so we are very much at the mercy of mother nature and shipping carriers.
If we should find ourselves out of a particular flower that is in an arrangement that's been ordered then we will substitute for a similar flower at our sole discretion. We will always do everything possible to maintain the overall look and feel of the arrangement ordered, and we desire first and foremost that you are happy with any substitutions we have to make, so please rest assured that we will not sacrifice quality or design in our substitution selections.
If a substitution is made and the flower we select is more expensive than the flower we are out of you will NOT be charged anything additional.
Please feel free to call us with any questions or concerns!
General Policies
Bee Merry offers florals for both delivery and pick-up. Delivery and pick-up orders may be made three different ways; directly through our website, through our DoorDash storefront, or by calling our studio and placing the order over the phone.
All phone orders can be paid through invoice sent via email or text. We accept American Express, Visa, Mastercard, and Discover, as well as Venmo and Apple Pay.
We do not accept outright returns on floral arrangements, however if you are not satisfied with the quality of your floral order please do not hesitate to contact us as soon as possible. We are happy to find a mutually agreeable solution with you. We are very selective in the quality of the florals we send out in our arrangements, and we want every customer to be thrilled with their purchase. Your business matters to us, and we will do our very best to make any errors right with you.
We are open Monday through Friday, however we are not in studio over the weekends unless we have a preordered arrangement to make and/or deliver. Our DoorDash storefront however is open on both Saturday and Sunday for delivery. If an order is received then I come to the studio or fulfill it; otherwise, I spend my weekends at home with family.